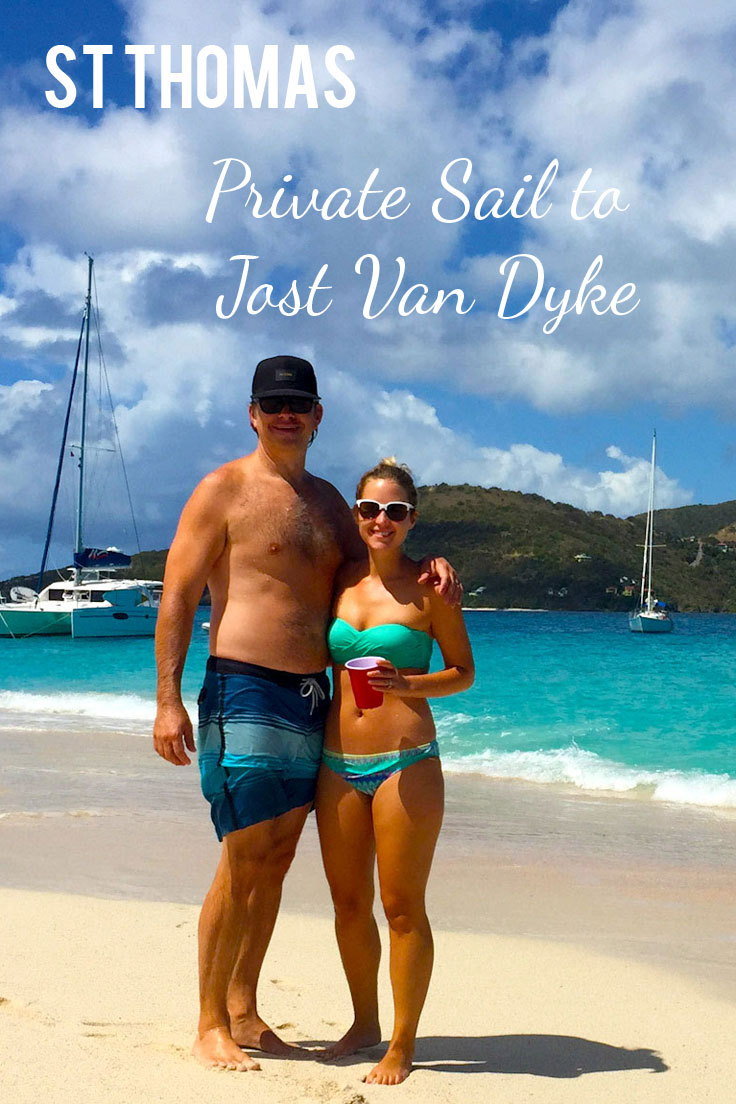 Private Sail to Jost Van Dyke- Full Day
Overview
Spend the early morning on a breezy sail along pristine waters, passing island silhouettes along the way to White Bay, where you'll spend the day relaxing in the soft sand, grabbing a drink at the Soggy Dollar Bar, trying some of the local and traditional foods at the One Love Bar and Grill, and enjoying perfect clear waters for some of the best snorkeling in the world. Board your private charter to one of the world's most beautiful white sand beaches in Jost Van Dyke, British Virgin Islands, where your helpful crew is standing by to assist with any complimentary snorkeling gear, floatation devices, or water toys. Relax and sunbathe on the beach or spend the day splashing in the shallow waters.
On board our 37-foot-long sail boat, you'll get the royal treatment from our crew with complimentary served drinks, cocktails, and snacks, enjoy a party with our state-of-the-art surround sound system, or just relax with your family. We'll help you make the most of your time sailing through the islands before heading back to St. Thomas. Reserve your private charter now for the perfect adventure during your Caribbean vacation!
Duration: 9 hours
Maximum Passengers: 6 people
Cost: $800 (for 2 passengers) / $75 for each additional passenger
Customs fees are not included in the price
Highlights
Enjoy a day of sailing through the beautiful Caribbean water
Spend the morning sailing through the famous Pillsbury sound to Jost Van Dyke, BVI
Sip wine, beer, cocktails and signature drinks from our open bar
Please your appetite with snack items from our menu
Visit White Bay, one of the world's most beautiful white sand beaches
Stop by the Soggy Dollar Bar for a drink
Taste-test some island fare at the One Love Bar and Grill
Sunbathe on the soft sands and swim and dive in the warm, clear waters
Experience some of the best snorkeling in the world
Enjoy once-in-a-lifetime views of native marine life
Be on the lookout for sea turtles, sting rays, and colorful reef fish
Relax, listen to music, and get to know our first mate, Pedro the Boat Dog
Travel in style on our 37-foot sailboat
Capture every minute with our HD waterproof camera
Book the perfect day on the water for couples, families, and groups
Important Note: Don't Wait to Book!


Tours and activities in St. Thomas and St. John fill up quickly and often weeks or months in advance.  Don't wait and miss out on the fun!  Book now to reserve your space and avoid disappointments or last-minute scrambles. If you need to cancel for any reason, we'll give you a full refund on most tours as long as you cancel at least 24 to 48 hours in advance. Check the bottom of each tour or activity description for cancellation terms. We want you to enjoy the best of our beautiful islands, so make your reservation now!


Before You Book
Passports are required for all guests as well a $60 (CASH only - price subject to change based on customs) per person customs fee for entering the British Virgin Islands
Charters meet at the Compass Point Marina, St. Thomas and in Cruz Bay on the Beach in front of High Tides restaurant, St John
Arrive at the dock at least 15 minutes before your scheduled departure
Contact your charter after you receive your booking confirmation to specify any dietary restrictions such as allergies, not eating seafood, or vegan requirements
Notify the crew of transportation needs from your hotel or accommodations to the dock
Bring any additional snacks or drinks you wish to enjoy
Bring any swimsuits, towels, sunglasses, or sunscreens you will need
Personal snorkeling gear, flotation devices, and waterproof cameras are allowed
If you would like to bring your own pet, please contact us in advance after you receive your confirmation
If you prefer that our dog not be on board, please request this in advance
Itinerary
Departure point: For St. Thomas Compass Point Marina, Fr St. John In Cruz Bay on the Beach in front of High Tides restaurant
Departure time: 8:00 AM
Duration: 9 hours
Return time: 5:00 PM
Menu
Fried Bacon
Trail Mix
Mixed Fruit
Open Bar
Important Information
Inclusions
9-hour day of sailing and water fun in White Bay
Amazing cocktails, signature drinks, beer, and wine from our open bar
Drinks and snacks served by crew members
Professional and high-quality snorkeling masks, fins, and snorkels provided
Child-size snorkeling gear and kickboards and floats are available
Helpful crew members for assistance with snorkeling gear
Personal floats and water toys provided for ultimate relaxation
Life vests for all sizes from infant to adult are available
State-of-the-art sound system for music and dancing
A relaxing deck shower and fresh water head
Exclusions
Customs fees are not included
Lunch not included
Gratuities not included
Additional Info
Please arrive for your charter at least 15 minutes prior to your departure time. Please notify the crew of any non-swimmers in your party before leaving the dock. Contact us prior to leaving for the charter for help with taxi service or directions. Please notify the crew of any transportation requirements to or from your hotel or accommodations to the dock.


Cancellation Policy
For any cancellations at least 24 hours before the departure date, a full refund will be granted.